Local. Veteran-Owned and Operated. Just Getting Started.
7B Forestry Mulching is a proud Idaho company founded by a family of military veterans that live in the community. After more than 20 years of moving around the country for the U.S. Army, Jared and Kristen Sloan moved with their seven home-schooled children to Sandpoint, the last home they will ever need.
Jared Sloan
Owner and Director
Jared started his first landscaping company as a 12 year old boy, quickly saving funds to upgrade to riding mover to increase capacity. In 1989, he enlisted in the Army and spent the following 27 years in various positions all over the world. His true love for operating big equipment came as a Chinook helicopter pilot for more than 20 years. His passion for forest care flourished as the owner of a large wood lot in upstate New York where he conducted selective harvests for many years and worked diligently for forest health and animal habitat. He will personally walk each job with the clients to fully understand their desired goals. He has consistently tried to teach each his seven children that there are only two ways to do a job – do it the right way, or do it again.
Kristen Sloan
Owner and Operations Manager
Kristen joined the Army after graduating from the United States Military Academy at West Point, NY and spent six years as a logistics officer in various assignments. She then moved on to apply her well-honed planning skills to raise and home school seven children. She has come a long way from her youth in a small apartment in New York City, and now thoroughly loves the freedom and space North Idaho provides. Kristen works with every client on scheduling, billing, and general customer service needs. She continues to home school the five children still at home, volunteers tirelessly at St Joseph's Catholic Church, and runs her own home school consulting business. You can check her work out at SelleValleyLearning.com.
Connor Sloan
Equipment Operator and Mechanic
Connor is the oldest of seven children and, like his parents, also answered the call to serve. He enlisted in the Coast Guard after high school, and served in Kodiak, Alaska and Honolulu, Hawaii. He is grateful to be living in Bonner County, where he can pursue all of his favorite outdoor activities. Connor loves to work with his hands, and learned welding, fabrication, plumbing, and carpentry through the Coast Guard. He meticulously operates the equipment and treats every customer's property as his own.
7B Forestry Mulching operates three primary pieces of equipment each with specific uses in mulching operations.
Compact Track Loader with Mulching Head
The primary piece of equipment in forest mulching operations is a compact track loader (CTL) with a mulching or masticating head. This high hydraulic flow hydraulic machine quickly grinds or mulches organic material leaving behind an even and organic mulch. The CTL also operates a high torque stump grinder that can reduce even large stumps up to twelve inches below grade in a matter of minutes.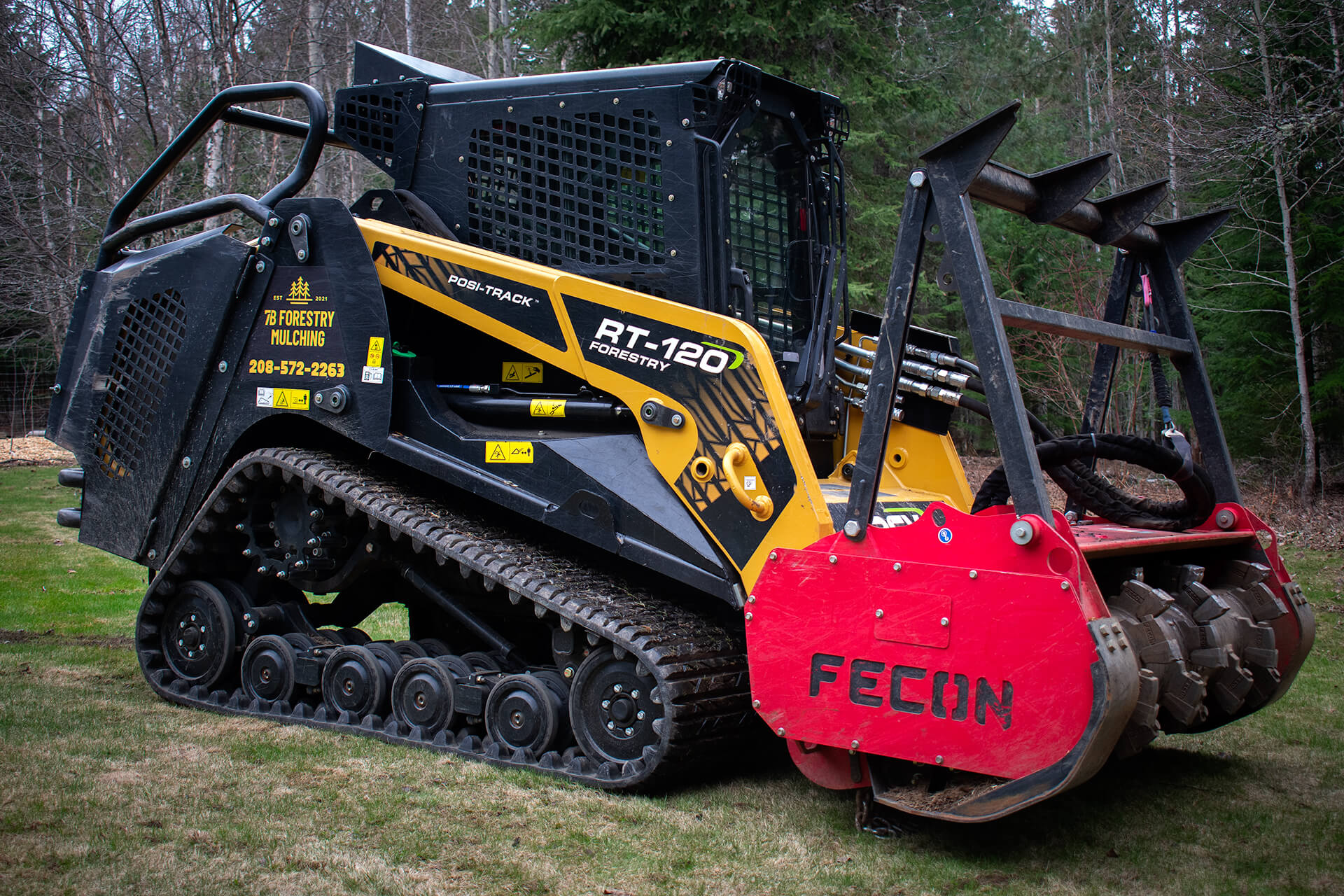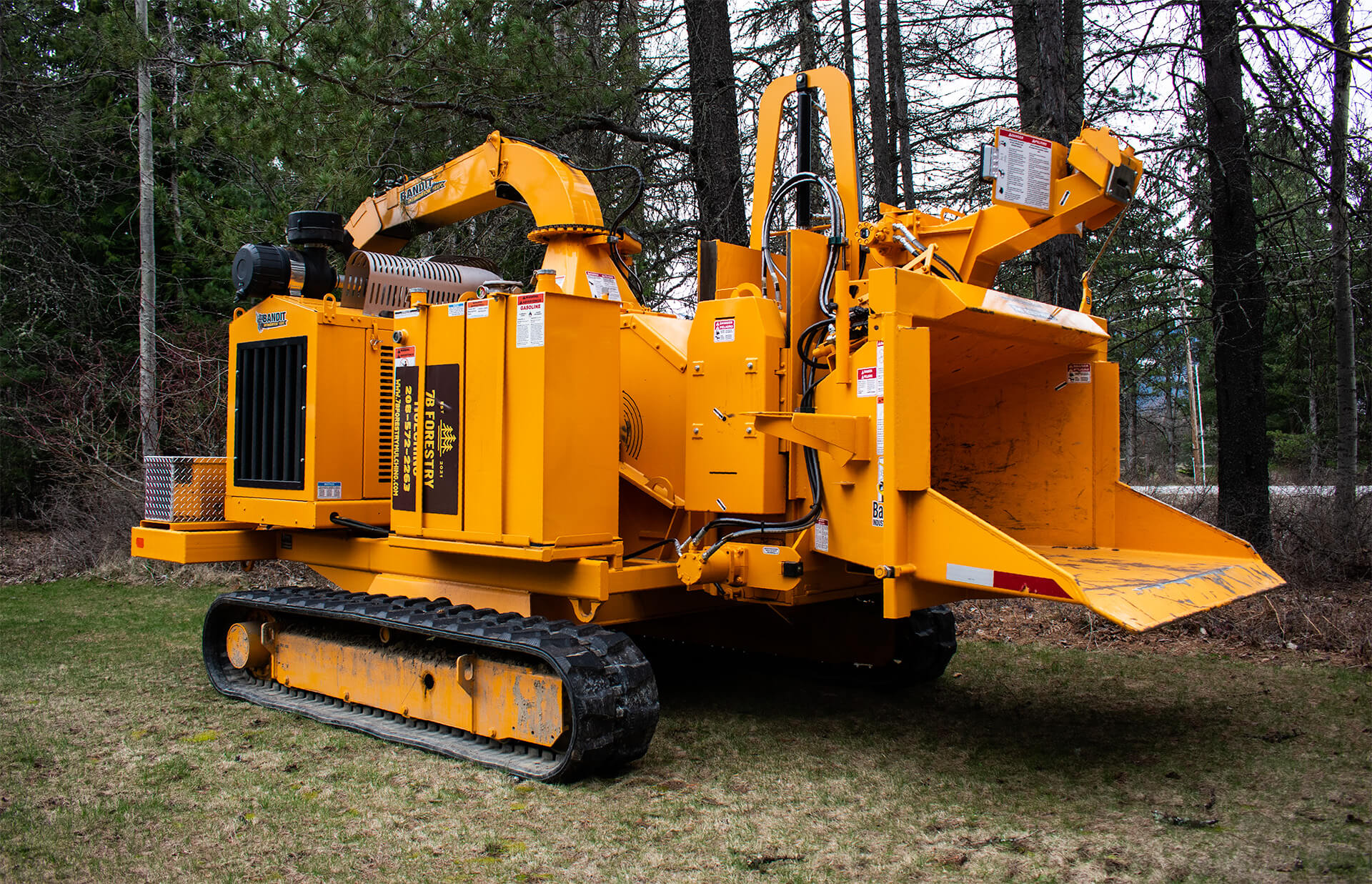 Tracked Chipper
 7B Forestry Mulching operates the only large tracked chipper in North Idaho. This specialized piece of equipment can take a 19 inch diameter tree and reduce it to mulch in a minute and even disperse the mulch in a wide area. The self-propelled tracks enable the chipper to move around the entire property without a tow vehicle and the full remote control improves safety by eliminating the need to hand feed the chipper.
Excavator
7B Forestry Mulching operates a mid sized excavator with a tree sheer attachment specifically designed to quickly and safely remove unwanted standing trees.  This machine also runs on rubber tracks to greatly reduce the soil disturbance.  The combination of tree sheer to fell trees and grapple to handle the logs, the excavator will effortlessly feed to the tracked chipper in a safe single operator manner.